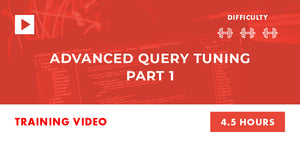 Ready for SQL Advanced Performance Tuning Training? Welcome to Part 1.
Everything is on the table here. These are the things a DBA must know to fix the problems everyone else thinks are too hard to solve. You'll learn innovative techniques to solve problems no matter what your situation is.
This video will cover parameter sniffing, lookups, sorts, functions, optional parameters, paging, and how to tune those gigantic queries that bring your server crashing down.
4.5 Hours, Streamed